TheSkyX Pro X2 Weather PlugIns
These PlugIns are multi platform : macOS, Windows, Linux (Ubuntu) and Raspberry PI.
As it's hard to get access to the real hardware, I'll give priority to whichever vendor is willing to help. If you own a filter wheel and want macOS or Linux support for TheSkyX Pro, let me know which one. If I can get the protocol documentation, I will try to write a X2 PlugIn for it.
Current PlugIns :
If you want to support the development, you can donate or lend hardware, or donate via PayPal so that I can acquire the hardware myself:
Contact info :
How to access the settings dialog in TheSkyX :
This applies to all my PlugIns
Click on the picture for a large view
PrimaLuceLab Eagle series environment sensors :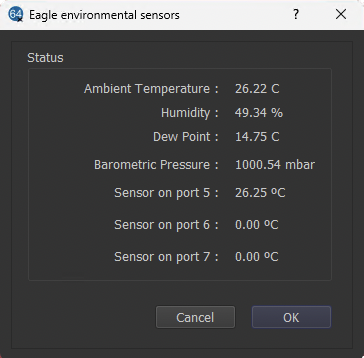 The PrimaLuceLab Eagle can be found on their website.
Usage :
The settings dialog only shows data. This plugin reports the available enviroment data to TheSkyX.
Downloads :
Davis WeatherLink Live :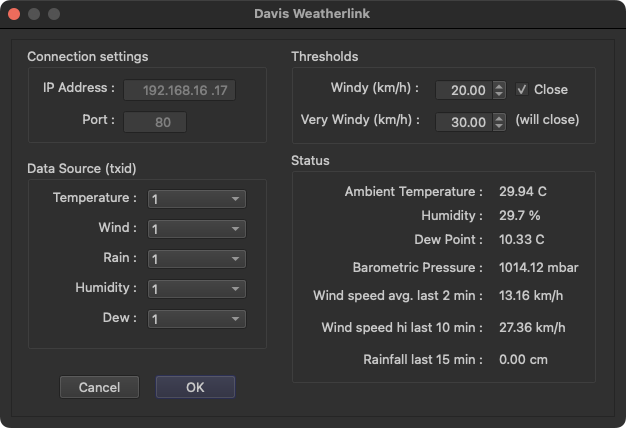 The Davis WeatherLink Live can be found on their website.
This plugin has been tested with a Davis station connected to a WeatherLink Live at a remote site.
Usage :
The settings dialog allow you to set IP address of the WeatherLink Live and port to connect to (default port is 80).
Downloads :
'TheSkyX' is a registered Trademarks of Software Bisque, Inc.
All pictures and/or material on this page is the property of Rodolphe Pineau. Unauthorized use and/or duplication of this material without express and written permission from the author and/or owner is strictly prohibited.